Session Times for Online Webinars
All Online Webinar Workshop Courses are Category A activities.
The Ethics and Professional Practice (Mandatory) distance learning unit is a Category B activity. The Ethics and Professional Practice is a private study unit and is not available as a Webinar.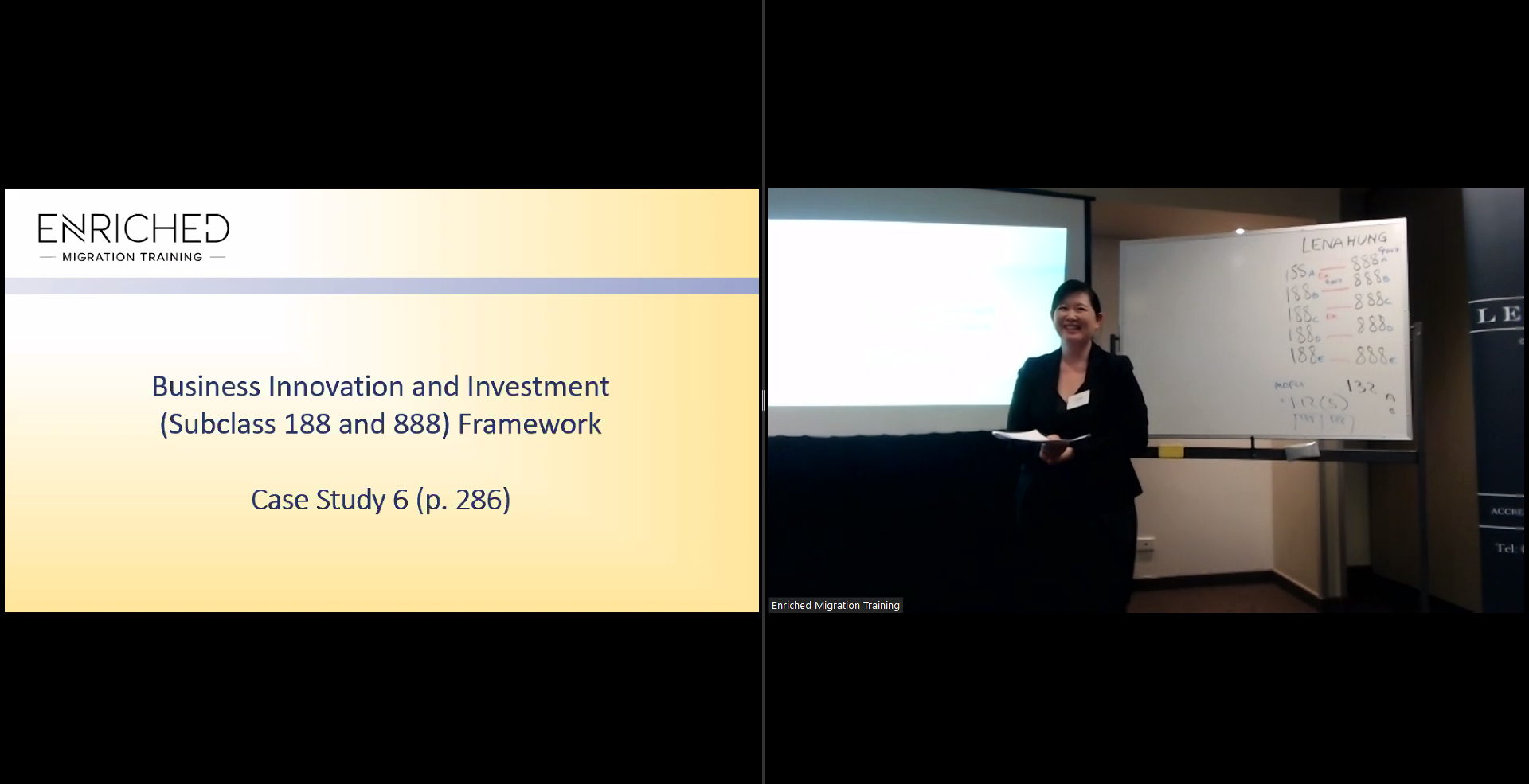 Enriched Migration Training is now offering online Webinars to extend accessibility to participants who are unable to attend a preferred session in person.
Webinar sessions will provide a comparable level of interactivity and value to participants. The sessions will be live-streamed and participants will be able to present questions and engage with other online participants in real-time. Legal and migration questions will be answered live by the presenter.
FAQs
1. Face to face sessions temporarily suspended

In light of recent developments concerning Coronavirus (COVID-19), all Face-to-Face CPD sessions are suspended temporarily pending further notice. Our ONLINE Webinar CPD sessions continue to be available for enrolment. RMAs and Lawyers who require CPD points are encouraged to register for our online workshops. This is in line with the national response guidelines for maintaining sufficient isolation and person-to-person distancing practices in order to restrict the spread of the virus and to minimise risk factors for participants.
2. What is required to participate in a Webinar session?

To participate in a webinar session, participants are advised to have access to the following resources in advance:

Zoom Video Conferencing software, available free of charge here
Gmail account for receiving access to the Workbook
3. What is Zoom?

Online Webinars allow participants to join in on a webinar session from anywhere in the world through an electronic device that allows "Zoom" applications. Such devices may include iphones, ipads, android devices, desktop and laptop computers with internet connection. Participants are advised to check that the electronic device to be used for the webinar is compatible before registering for the online webinars. It is the participant's responsibility to ensure there is active and reliable internet connection on the participant's location throughout the entire webinar duration. More information is available through Zoom.us to check device compatibility. For more information on the webinar sessions, please contact us on info@enrichedtraining.com.au

A copy of our Zoom Webinar Guide is available for instructions on usage
4. Which device should I use to view the webinar session?

We recommend you use your desktop or laptop for an optimal viewing experience. Some iPads, iPhones and Andriod devices may have limited viewing functions on the device.
5. I signed up for a workshop, when will I receive the Zoom link and materials?

The Zoom link and materials to the workshop will be provided one (1) day prior to the scheduled workshop. The Zoom link and materials (powerpoint slides and case studies) will be sent to the email address used for signing up to the workshop. If you have not received the materials or Zoom link, or have an alternative email address, please contact us on info@enrichedtraining.com.au
6. Do I get a Workbook?

Webinar participants will have the benefit of an online version of the Workbook. While the face-to-face sessions are suspended, Webinar attendees will be entitled to receive access to a version of the workbook which is downloadable and printable*.

* Disclaimer – while the workbook access will have a download and print function, we reserve our rights to protect our intellectual property. Participants are only permitted to maintain 1 version of the workbook for their own personal use. Participants are not permitted to engage in unauthorised duplication or distribution of the workbook. We reserve our rights to take appropriate action against any party who engages in unauthorised conduct.
7. How do I get a Workbook? Do I need a Gmail account?

We encourage you to email us your Gmail, G-Suite or Google Workspace email address prior to the commencement of the scheduled workshop. It is an attendee's responsibility to provide a nominated email address that has access to the G-Suite or to Google Drive. Addresses that do not have access to Google Drive will not be able to access the online Workbook.
8. Can I mix-and-match different workshops from different months and still get a discount?

Yes. You can choose workshops in different months, and the bundled discount will still apply. For example, if you choose 3 workshops (3 CPD points each) in three different months (May, June and July) including Ethics, you will only pay $550. The discount will apply automatically at the checkout.

Please note the bundled discount does not apply to Express CPDs – single workshops (worth 1 CPD Point). We recommend a separate registration when signing up to an Express CPD, as the Bundled Discount will not apply to the Cart when combined with other Workshops.
9. Are these webinars for Lawyers or RMAs?

All webinars are live-streamed and are intended to provide both RMA professionals and Lawyers with a solid foundation and updated skills and knowledge in the CPD workshop topic and information session.
10. Can I claim OMARA CPD points or Lawyers CPD units on all workshops?

RMAs will be awarded OMARA CPD points for full attendance of all Workshops. All Workshops are Category A. No OMARA CPD points will be awarded for an Information Session.

Lawyers may claim each hour of attendance of the workshops and information sessions if it meets their CPD needs according to the Uniform CPD (Solicitors) Rules 2015. Lawyers are advised to check their State/Territory legal regulator.
11. Can I purchase a recording of a Webinar?

Recordings are available for purchase through Lawyers CPD Videos. Please note non-lawyer RMAs will not be awarded OMARA CPD points for Webinar recordings or video replays of a workshop or information session. Lawyers may claim 1 CPD unit for each hour of viewing (breaks not included), if it meets their CPD needs according to the Uniform CPD (Solicitors) Rules 2015. These recordings are considered Private Study units of an audio/visual material.